See the Evergreen model on DIY Network's Tiny House, Big Living!
Did you get a chance to see the Tiny Zoo House episode on Tiny House, Big Living? If you missed it, you're in luck! You can watch the full episode here, or click below! In the episode, you'll meet Stephanie and Tim from the Creative Animal Foundation, and you'll tour the inside of their one-of-a-kind Tiny Living by 84 Lumber tiny house, the Evergreen!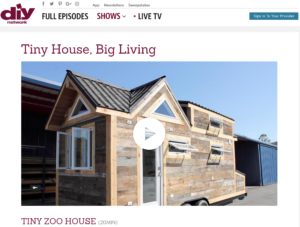 Note: you will be asked to log in with your local cable provider.